Kate Probert
---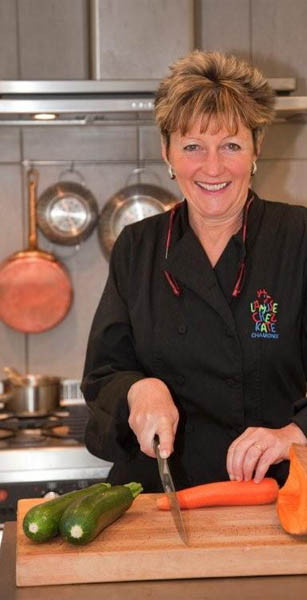 My first job was selling Welsh Cakes in Swansea Market. I then worked as an au pair in France where I really learned how to eat and fell even more in love with food. When I returned to Swansea, I bought a coffee shop then started working at the Dragon Hotel gaining experience in catering in general. In 1982 I was asked to run the restaurant at Fairyhill where we won many accolades and entries in The Good Food Guide.
After 6 years at Fairyhill I was keen to progress further. I used to frequently visit London to buy ingredients that weren't available in Swansea and happened to mention to the manager of the Roux brother's butchery that I would be interested in working at Le Gavroche which was one of two three Michelin starred restaurants in the UK at that time. A week's work experience was arranged for me and I learned so much. At the end of the week Albert Roux invited me for a glass of champagne and told me of a protégé of his who had opened his own restaurant and recommended I visit. His name was Marco Pierre-White. My husband took me there for lunch that weekend, Harvey's at Wandsworth. I introduced myself to Marco and subsequently went on to do another week's work experience at his restaurant.
These were fantastic opportunities to work with incredible chefs and I also fell in love with the buzz of running a local restaurant. I was challenged to innovate on a daily basis and the response from customers was truly very rewarding. Albert has been such a great influence on my cookery, I was delighted when he agreed to write the foreword for this book.
In 1995 I opened my restaurant – L'Amuse in Mumbles - which was French themed and the only one of its kind at the time. I employed French staff and the restaurant was decorated in the Savoie style. It was fabulous successful but extremely hard work as everything that went out of the kitchen was home made. I sold the restaurant 8 years later and I embarked on a degree in French and Italian at Swansea University. The third year was spent in Italy where I furthered my knowledge and love of food.
A few years later I decided to open a small cookery school from my home in Gower – L'Amuse Chez Kate. This has been a wonderful experience and a great opportunity to share stories and passion for cookery. I can't wait to resume the courses which have obviously been put on hold due to the pandemic. My cookery is inspired by the French. I love creating new recipes and putting a twist on more traditional dishes – trying to use local produce wherever possible.