Scallops marinated with grated beetroot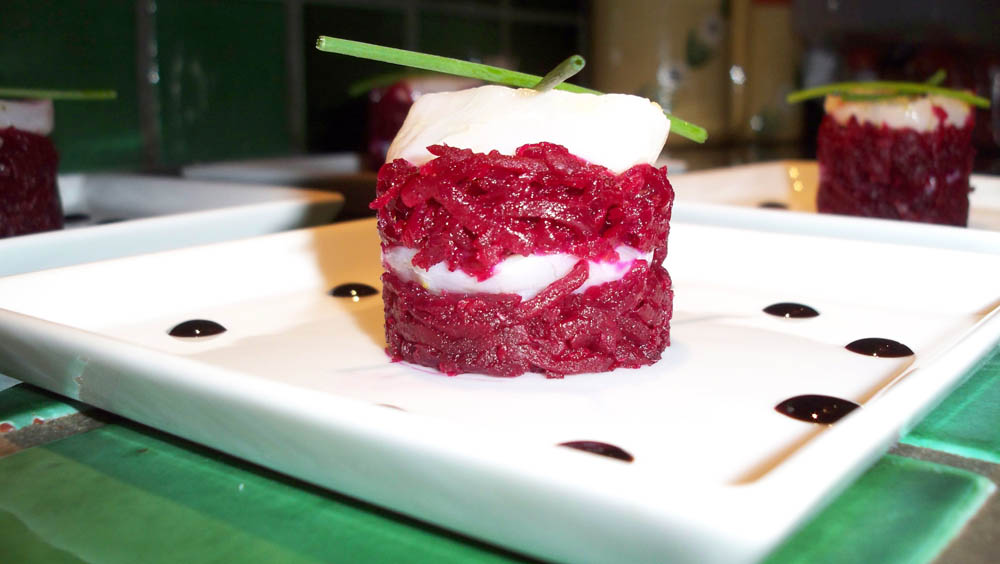 This is a fabulous amuse bouche; it's a way of using scallops economically as you only need one scallop per person or if large you could easily slice one into three or four.. However, you could also serve it as a starter using a larger ring and doubling up on the ingredients.
Juice and zest of 1 lime
1 tbs ginger juice
A little chopped chilli
1 teasp honey
1 teasp olive oil
Chopped dill
Salt
6 scallops cut into 2 widthways

Grated beetroot and beetroot jus

1 large beetroot, grated about 170 g net weight
250 g water
30 ml red wine vinegar
50 g sugar
Cook the beetroot with all the rest of the ingredients until tender and strain reserving the juice. To make a jus, reduce the liquid until syrupy. Set aside and refrigerate. You will need small rings the diameter of the scallop.

Mix all the ingredients for the marinade. Put the sliced scallop in the marinade for about 15 minutes maximum. To assemble: put a layer of beetroot, then on piece of scallop, another layer of beetroot and finish with the second piece of scallop. Dot around with balsamic cream or beetroot jus and finish with a piece of chive.