Christmas Pudding Pannacotta with orange and brandy sauce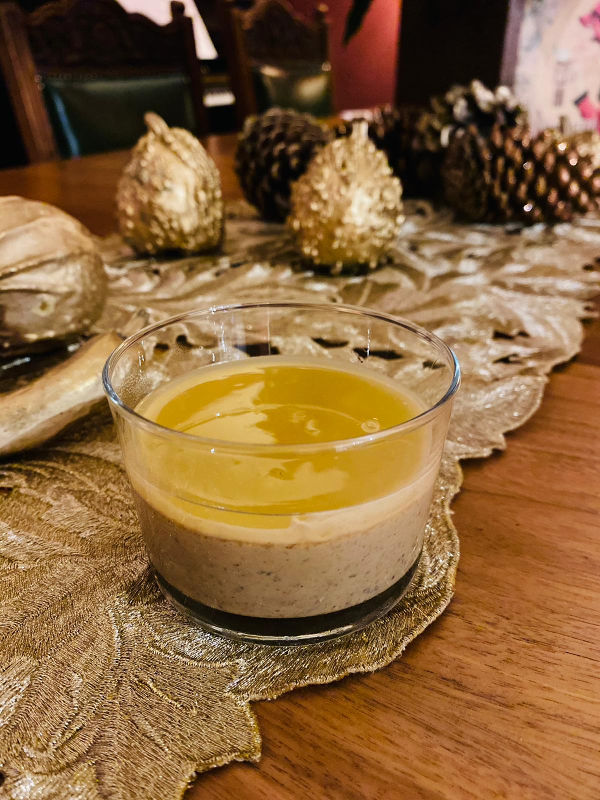 Serves 6
300 ml double cream
200 ml milk
3 small leaves gelatine
1 teasp black treacle
60 g dark brown sugar
125 g mixed fruit
2 tbs brandy
½ teasp cinnamon
½ teasp nutmeg
½ teasp mixed spice
Grated zest of orange
For the orange sauce
3 teasp cornflour
50 g sugar
250 ml orange juice
Brandy
• Put the fruit and the brandy in a food processor and whiz.
• Soak the gelatine in cold water until soft…a few minutes.
• Bring the cream, milk, spices, treacle and sugar to the boil and add the softened gelatine, stir well to melt, then add the soaked fruit, orange zest. Stir well.
• Pour into the dishes or ramekins and leave to set slightly while you make the sauce below.

Orange sauce
• Combine all the ingredients and bring to the boil.
• Adjust the consistency if necessary by adding more orange juice.
• Add the brandy and leave to cool before drizzling it over the nearly set pannacotta. Leave overnight.